For some occasions, you will need a professional Order of Service and sometimes there is little time to get the printing done. This is where we can help by providing a fast, reliable, quality service for all your Funeral and Wedding Order of Service requirements.
Funeral Order of Service Booklets
Hurricane Print, based in Perivale in North West London can provide you with an appropriate, perfect and professionally designed memento for your family and friends to keep to remember the life of a loved one and to celebrate the life of the deceased.
Funeral booklets can be designed to include the list of the speakers at the service, as well as the words to the hymns that will be sung and the readings prayers and poems that will be read as well as instructions and directions for what's happening after the service. Funeral booklets can also be designed to include photographs of the deceased, as well as photos of them with their loved ones. Many people choose to keep the booklets after the service as a reminder of their send off.
Wedding Order of Service Booklets
A well-designed and created Wedding Order of Service will provide a lasting keepsake for family and friends on your wedding day. You can include words to the songs that will be sung, traditions about the ceremony and information about the couple and you might want to include photographs of the couple from their engagement and life together thus far.
These will make treasured items for the couple as well as family and friends. We can help you develop the theme for your wedding by creating your unique style, colours and ink in a classic, traditional or contemporary way.
Please call us on 020 8997 6578 or email sales@hurricaneprint.co.uk for a chat about your Wedding or Funeral Order of Service requirements. We will offer helpful advice on your design and printing needs.
Prices
A4 card printed full colour both sides scored down the centre to make a 4 page A5. Prices below are to print on a 350 gsm brilliant white uncoated board or 350 gsm silk coated finish. Prices inc. design from info and pictures you have supplied.
25 = £65
50 = £85
100 = £105
200 = £145
As above but 8 page A5, these will have a sheet of 120 gsm uncoated or 150 gsm silk coated stitched inside the card cover to create a booklet.
25 = £105
50 = £125
100 = £155
200 = £215
There is no VAT charge on Order of Service.
Prices for other style Order of Service on request.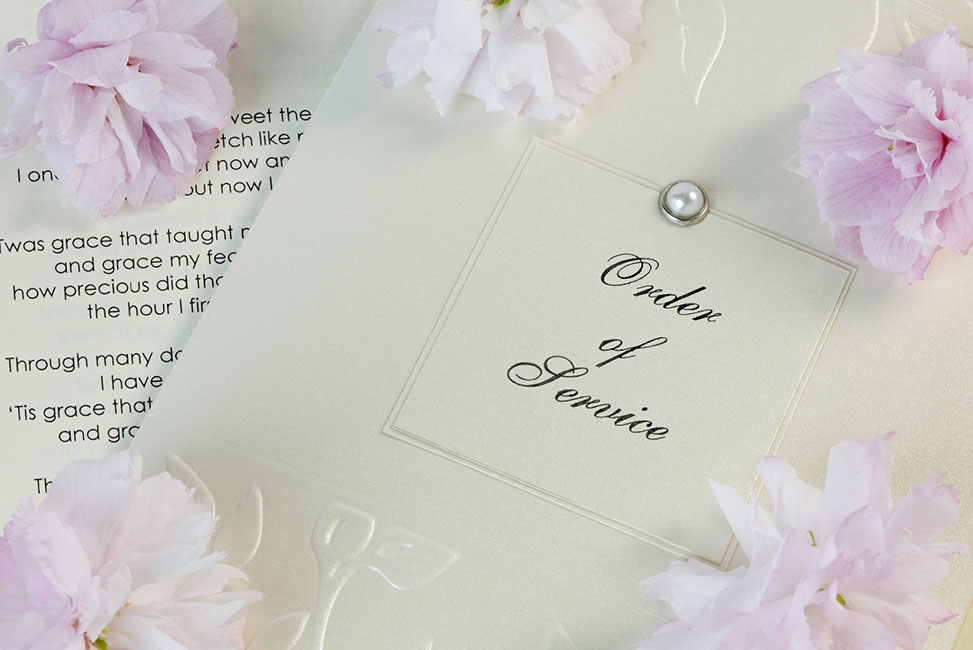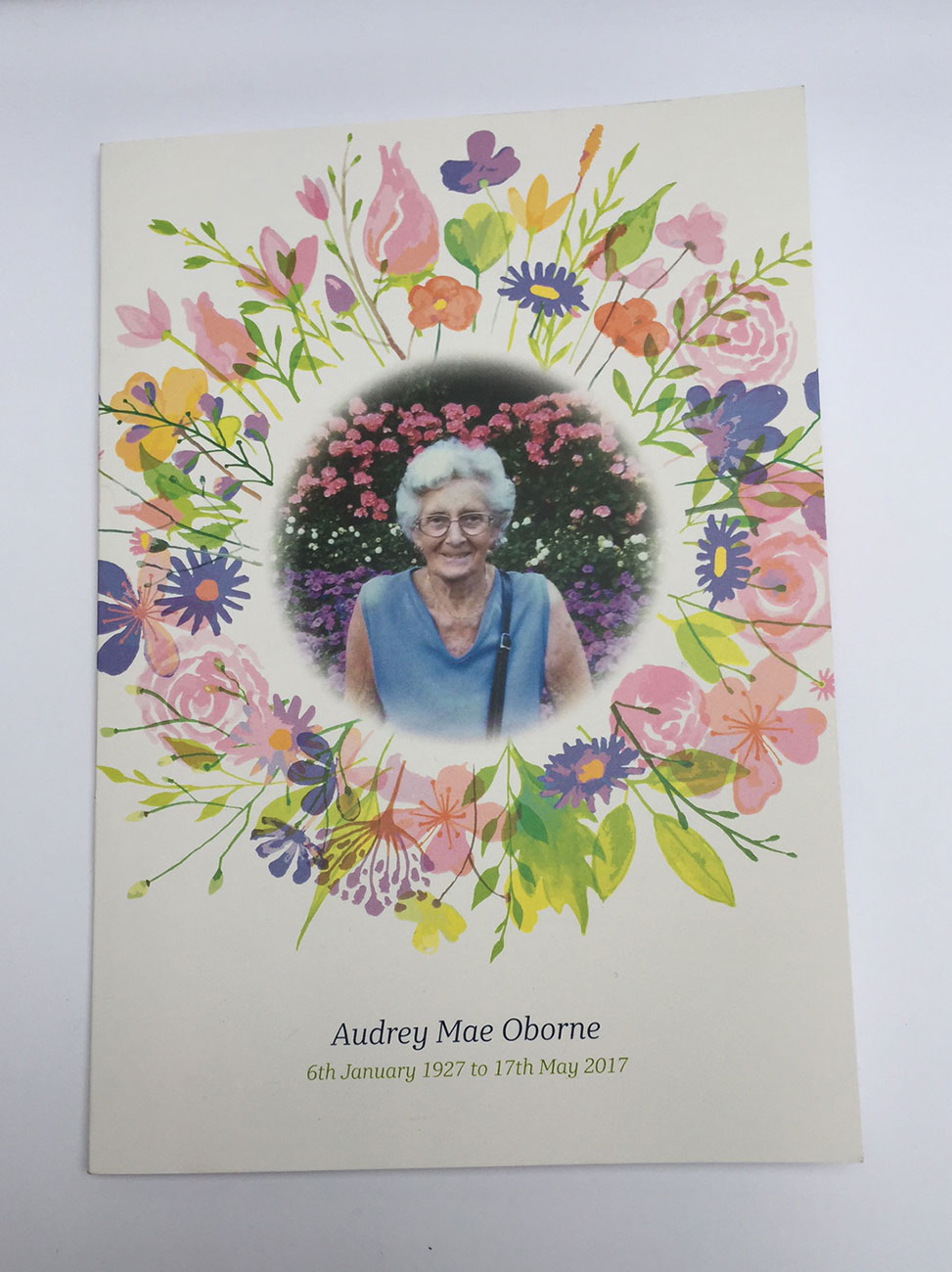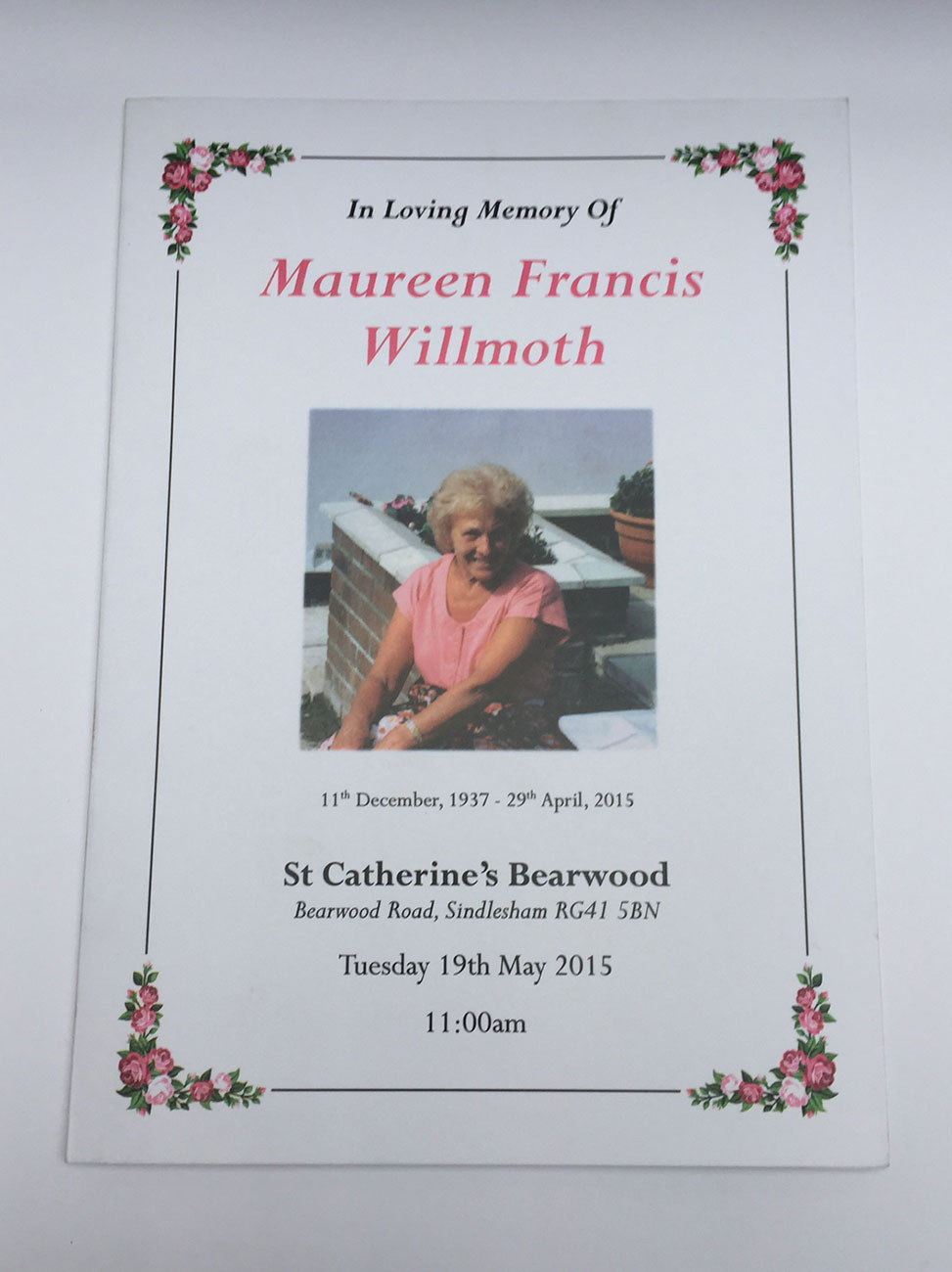 TESTIMONIALS
Convent of Jesus and Mary Language College
" I sent my order of service for my wedding Mass to Hurricane Print for printing. I was so impressed with the level of service and attention to detail. Eddie made a point of phoning me to ensure the layout was accurate making sure the blank pages were in the best places so that in print it would look perfect – and it was. Thank you so much! It was a pleasure to work with such a professional team of people who treated the job with care and attention - this can often be lost in industry but is definitely in existence at Hurricane Prints. "
Danielle Peppiatt
" Hurricane Print produced the Order of Service for my father's funeral. This was one of the most difficult things I had to put together in such a small amount of time and I was deeply appreciative of the speed, efficiency and sensitivity of their service. They were very considerate about the logistics of delivery and the need for expedience. The Order of Service booklets produced were of a beautiful quality: there was consistency in the high standards and a professional recognition of what was expected for the occasion. "
Marianna
" I'm delighted with the outcome of the printing. It's crisp and professional and the colour and weight perfect and stylish so thank you so much for your advice and patience with me. "
David Bolton