SCHOOL PROSPECTUS & STATIONARY
Are you looking to refresh your school stationery, including ordering a new school prospectus, folders, posters, invitations, banners or booklets for evening events?
Hurricane Print specialises in the design and print of new school prospectuses and has been working with schools since 1989. We will enjoy the challenge of working with you to create a fabulous new prospectus to showcase your school. We are proud of our highly creative and distinctive school prospectuses.
Presentation folders and prospectuses are the most effective way of displaying your school. They really give your school a professional image and they can advertise the qualities of your school including achievements, facilities, beliefs and merits. Your readers will be getting a true representation of your school's best features and why it is unique and whether it's the right school for their children.
Hurricane Print will talk with you so that you get a precise quote and we are here from initial order through to completion. We believe in beautiful results that are a testament to your school.
If you require school newsletters at short notice, please get in touch with us as these can be turned around very quickly and delivered back to you at a very reasonable price.
Please call us on 020 8997 6578 or email sales@hurricaneprint.co.uk if you would like to discuss your school prospectus design with us. We are also specialists in office stationery and calendars.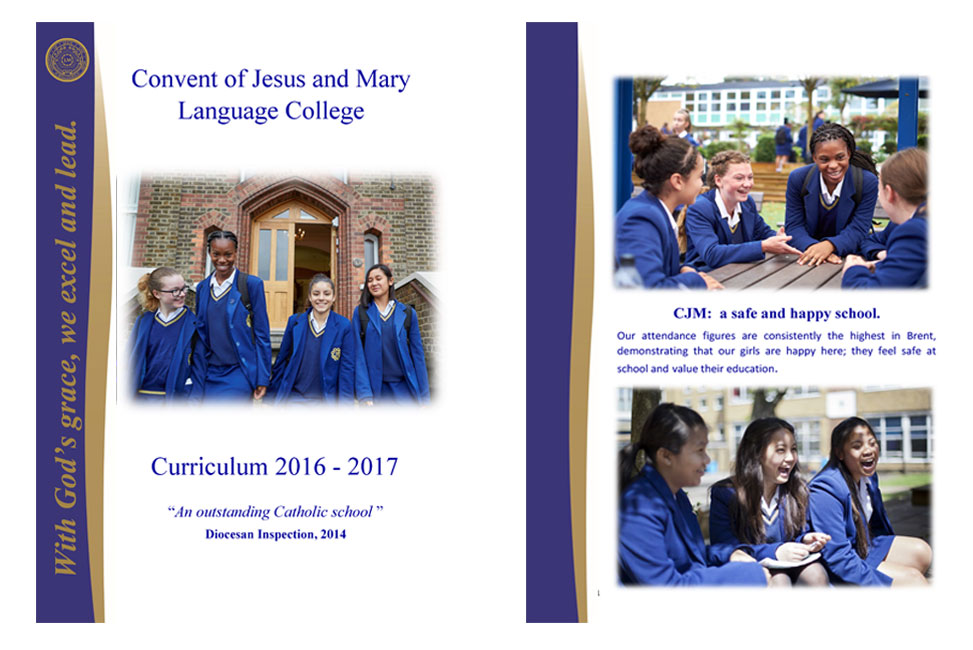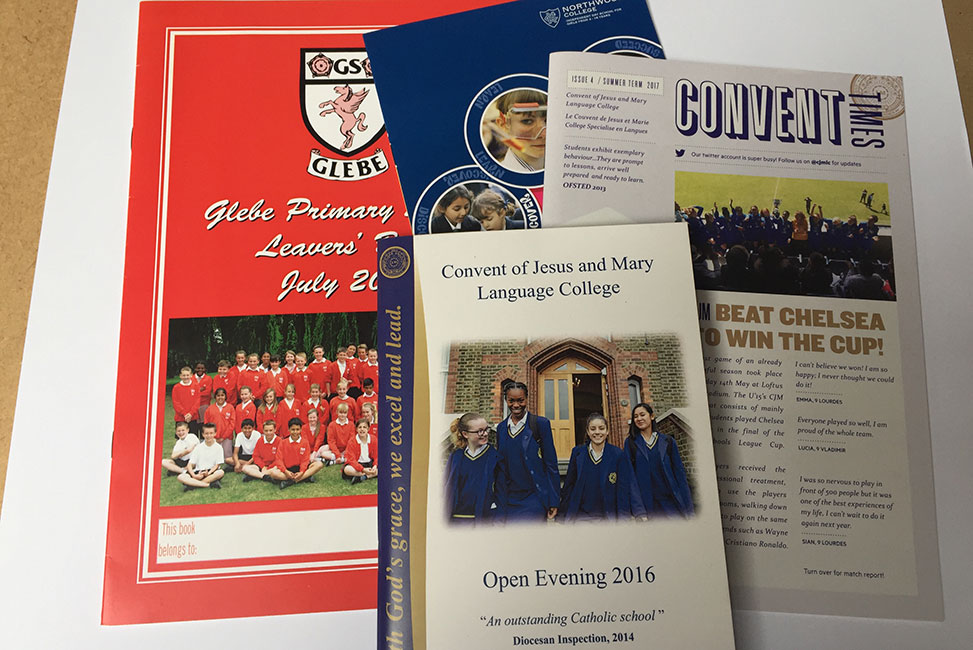 TESTIMONIALS
Convent of Jesus and Mary Language College
" I sent my order of service for my wedding Mass to Hurricane Print for printing. I was so impressed with the level of service and attention to detail. Eddie made a point of phoning me to ensure the layout was accurate making sure the blank pages were in the best places so that in print it would look perfect – and it was. Thank you so much! It was a pleasure to work with such a professional team of people who treated the job with care and attention - this can often be lost in industry but is definitely in existence at Hurricane Prints. "
Danielle Peppiatt
" Hurricane Print produced the Order of Service for my father's funeral. This was one of the most difficult things I had to put together in such a small amount of time and I was deeply appreciative of the speed, efficiency and sensitivity of their service. They were very considerate about the logistics of delivery and the need for expedience. The Order of Service booklets produced were of a beautiful quality: there was consistency in the high standards and a professional recognition of what was expected for the occasion. "
Marianna
" I'm delighted with the outcome of the printing. It's crisp and professional and the colour and weight perfect and stylish so thank you so much for your advice and patience with me. "
David Bolton